Bristol's Claims to Fame
Mention Bristol, Connecticut to your average Joe or Jane American, and I would say the odds are about 50/50 that he or she will know that Bristol is the home of ESPN. What Joe or Jane probably does not know, however, is that Bristol also has several other claims to fame. Do you assume that Joe would know that Bristol is the biggest city in the United States that does not have its own highway interchange? It's true, and driving through the charming little backroads of Forestville or Plainville comprise a part of my day that I can only describe as joyous.
Bristol is also home to Startech Environmental Corp., a company that I read about in Fortune several months ago. Startech makes a device that Fortune writer Stuart Brown has christened the "Destroyatron", which reduces most physical objects to its base atomic elements. Very cool, and potentially with many environmentally-friendly applications.
Bristol is also home to the Otis Elevator Quality Assurance Center, which stands 117 meters high. My buddy Dave, after about a year of needling comments from his co-workers, finally called up Otis and organized a tour of the facility for us curious geeks. We learned much about Otis' revolutionary "Gen2" technology on the tour, which was interesting because it was novel and because there were lots of big machines, moving parts, and jokes about elevator music that were not particularly well-received by the tour guides.
In any case, the tour opened my eyes to some of more interesting things that exist in Bristol. They're out there, I guess--sometimes you just have to look harder to find them.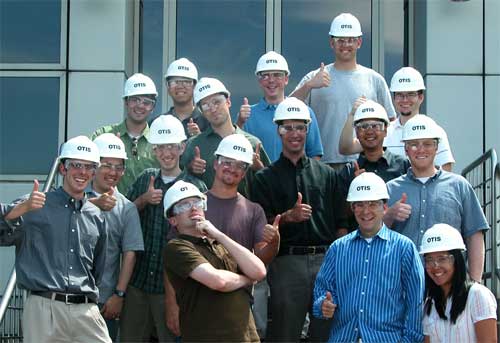 Related Posts