Choosing from Along a Continuum with Sliders
I've noticed recently how easy sliders make it for me to choose from a set of options that lie on a continuum. Kayak.com (in DHTML) and MyRatePlan.com(in Flash) provide two particularly nice examples that help me choose options quickly using sliders. They even use nifty dynamic effects to display chosen flights or cellphones based on where my sliders are at.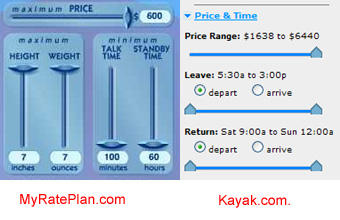 Sliders would be an especially good mechanism for helping users quickly choose a time. For example, when testing out the beta for Trumba, an online calendar application, I got annoyed by all the dropdowns and the perceived time it would take to choose a time for my test appointment:

Dropdowns are the Excel of interface elements: when you see them, you know you have serious tabbing or mouse clicking to do. Sliders are a pleasingly zippy alternative.
Update: Just found Amazon's Diamond Search, which uses a combination of sliders and Ajax to pick the perfect best friend for your girl.
Related Posts