Trulia: Web 2.0 Real Estate Search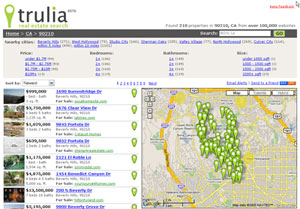 Via Memeorandum (which is so good that I'm now checking it multiple times a day) and Jeff Clavier comes word of Trulia, a loosely-joined real estate vertical search company.
Traditionally, listing real estate agents have charged 3% of a home's sale price to list a home on a local Multiple Listings Service. The National Association of Realtors (NAR) has seen that the internet reduces the information advantage that its agents possess, and is fighting like hell to protect its members' interests. They've attempted to do this by investing in Homestore.com, a vertical search engine that has exclusivity agreements with local multiple listings services to display properties on Homestore.
So, here we've got big commissions, an artifically-maintained listings monopoly, and a network that brings buyers and sellers closer together. In steps Trulia.
It looks like Trulia works by partnering or scraping real estate listings on "over 100,000 sites", aggregating the listings, marking them on the obligatory Google Map, and allowing visitors to slice and dice data by location, bedrooms, bathrooms, size, and price. It provides some really useful context for making a decision on a property, including local average list price, average days on market, and average sale-to-list-price difference. Also, Trulia offers email alerts and RSS feeds.
Trulia is playing nice with brokers and the MLS right now--they're just another channel to drive traffic to agents so they can make the sale. I bet the master plan for Trulia is to democratize property sales and become the "people's MLS". If Trulia achieves critical mass, watch for them to become a for-sale-by-owner listings clearinghouse and add some big bucks to their contextual ad revenue stream.
Trulia is a well thought-out product that makes searching for a property enjoyable (although I'm a real-estate dork and enjoy that kind of thing anyways.) Craigslist was the first blow against the NARs real-estate listings monopoly, and Trulia has solid potential to be the second. With Google working on integrating classified listings, it won't be long before the NAR is feeling the hurt that nimble, disruptive companies can bring on. It will certainly be fun to watch the poo fly in the real estate space in the coming months!
Related Posts