Human Companies are Trustworthy Companies
I was poking around Flickr early on a Saturday evening, when I came to their do more with your photos page. It points visitors to places for doing cool things with Flickr photos, like making photo books, stamps, and DVDs.
Then, I noticed the URL:


"Hmm," I wondered, "What happens if I change the URL?"


I was rewarded with this: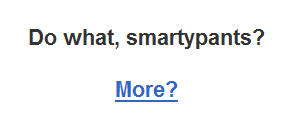 ... which brought a big smile to my face. Little easter eggs like this put a human face on a company, reward curious visitors, and make customers more inclined to spread the love about the company.
Why spread the love? Because a faceless corporation wouldn't waste its time making a fun easter egg, but a thoughtful person would. And who would you rather trust with your business, a faceless corporation, or a thoughtful person?
Tags: flickr, easteregg, trust, customerexperience
Related Posts