Zizou, Grey Ladies, and YouTube
The Times covers the World Cup final, played today between France and Italy.
The game is obviously a big story (1 BILLION people watched it on TV today. TV ain't dead yet.)
But another big story is about France's beloved captain, Zinedine Zidane.
Generally regarded as classy, Zidane was ejected from a tied overtime game for head-butting an Italian defender.
This, despite being poised to carry France to a World Cup victory in his last international game, and possibly last game ever.
So, big story.
Now, my buddy Ray-Ray pointed out that the Times is linking to a clip of the head-butt on Youtube (bet they're OK with it after Simmons did his YouTube Hall of Fame piece.)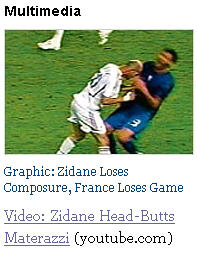 (Here's the clip:)
Click through to YouTube and read the comments, and you'll find a link to this user-created "highlight" reel of dirty deeds committed by the player that Zidane head-butted, Marco Materazzi.
Prescient? It was uploaded on June 29th.
(Here's the highlight reel:)
Viewing this adds so much more context to the conversation about Zidane's actions.
And it wouldn't have happened without the users.
But it also wouldn't have been noticed by so many without link-love from The Times.
So good on you, Grey Lady, for realizing that you don't operate in a vacuum.
You operate in an ecosystem.
(By the way, Italy beat France, 2-1, on penalty kicks.)
Bummer.
Related Posts